On World Reef Day (June 1st), Reef Renewal Foundation Bonaire (RRFB) hosted its 4th annual reef restoration event in celebration of our coral reefs.
ReeFiesta is an educational event that aims to bring divers and conservation-minded individuals together to promote ocean preservation and provide an introduction to reef restoration. The event was part of a variety of activities hosted around the world in honor of World Reef Day, a day calling the global community to action to make simple choices today to save our reefs' future.
With the generous support of five local dive operators – Buddy Dive Resort, Gooodive Bonaire, Harbour Village Beach Club, Tropical Divers, and Wannadive Bonaire – Reef Renewal Foundation Bonaire gathered over 110 divers together to participate in reef restoration efforts around the island. Volunteers included everyone from STINAPA Marine Park Rangers to tourists from around the world to Bonaire's local dive community.


In the morning, volunteers dove alongside experienced reef restoration team leaders in nurseries and restoration sites maintained by RRFB's five dive shop members. Together, divers collected corals from the nurseries and outplanted a total of 129 Staghorn and Elkhorn corals back onto the reefscape at five restoration sites along Bonaire's west coast.
In the afternoon, divers went out on four dive boats to RRFB's Klein Bonaire nursery where they performed routine maintenance and cleaned 63 nursery trees, removing algae and fire coral that compete with the growing Staghorn corals.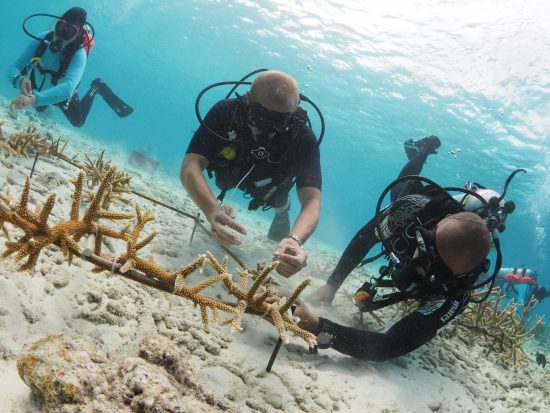 The day ended with a smashing sunset celebration on the beach complete with food and drinks, raffle drawings, and a piñata to thank the volunteers for their hard work.
Reef Renewal Foundation Bonaire Board Member Christine Wall was energized by all that transpired at the event. "It is crucial to get the community involved to protect Bonaire's reefs and ensure the future of this important ecosystem. It was encouraging to see everyone come together to volunteer their time and support the effort. Every single person can make a difference for our reefs."
Reef Renewal Foundation Bonaire could not thrive without its hardworking and energetic volunteers who assist staff on a weekly basis in coral nurseries and at restoration sites around Bonaire and Klein Bonaire. RRFB encourages all divers to give back to the reef by becoming a volunteer and getting involved in reef restoration throughout the year. For more information about our volunteer program, email info@reefrenewalbonaire.org.
Check out our ReeFiesta 2019 album on our Facebook page for more pictures from the day's events!