Jong Bonaire and Reef Renewal Foundation Bonaire have joined forces to educate and train Bonaire's next generation of reef protectors. As part of this new project, four students from Jong Bonaire received training to learn coral nursery maintenance, coral propagation, and outplanting techniques.
The project got its start through a generous donation from the US-based non-profit Blue Endeavors. Blue Endeavors is dedicated to providing scuba diving and citizen science curriculums to adult and youth members. Vince Smith, Blue Endeavors Founder and CEO, approached RRFB to support a program to educate local youth with an interest in giving back to Bonaire's reefs. Said Smith about the donation, "Like everyone else we were hit very hard financially by COVID19, and are just trying to show gratitude, keep our projects moving forward, and support the organizations we have relationships with."
In addition to training, the Jong Bonaire students are also receiving free memberships to Blue Endeavors' online platform. Through this platform, the students participating in the Jong Bonaire/RRFB program will have access to online resources and presentations on marine topics, opportunities to win individual and group prizes through public service and citizen science challenges, and an online platform to fundraise for equipment and further training.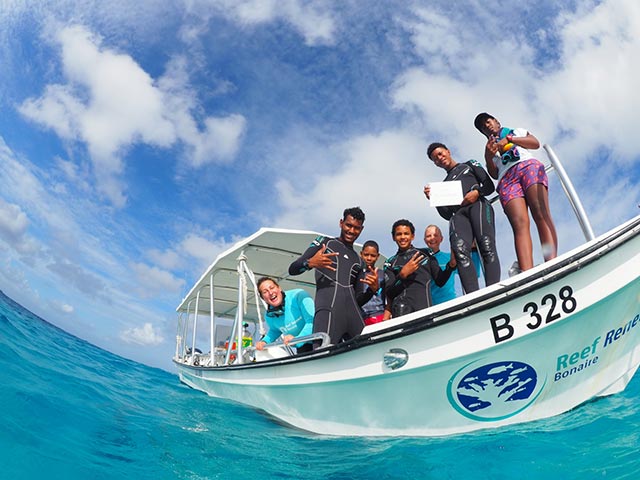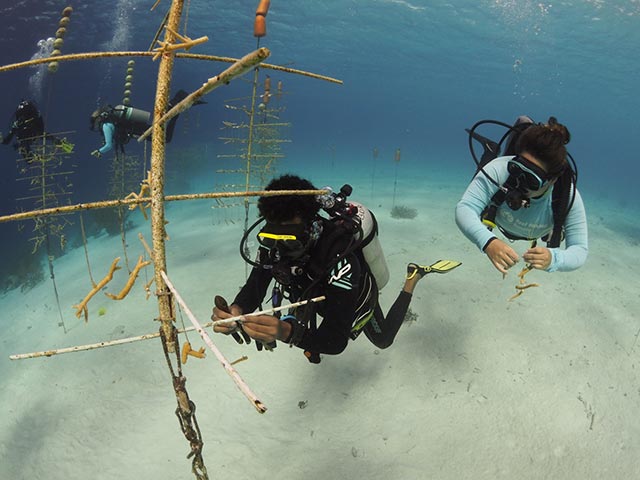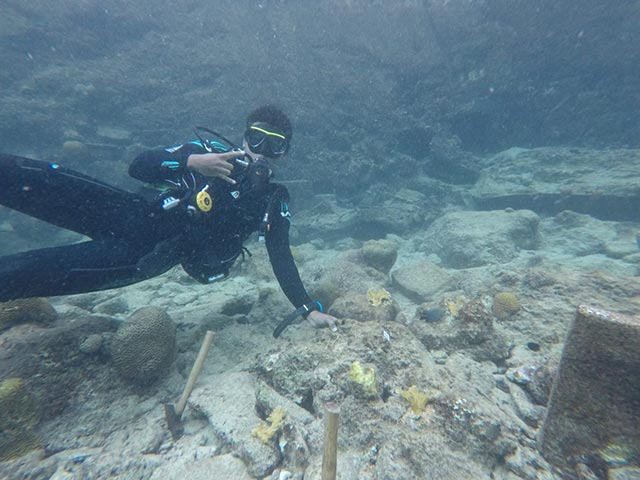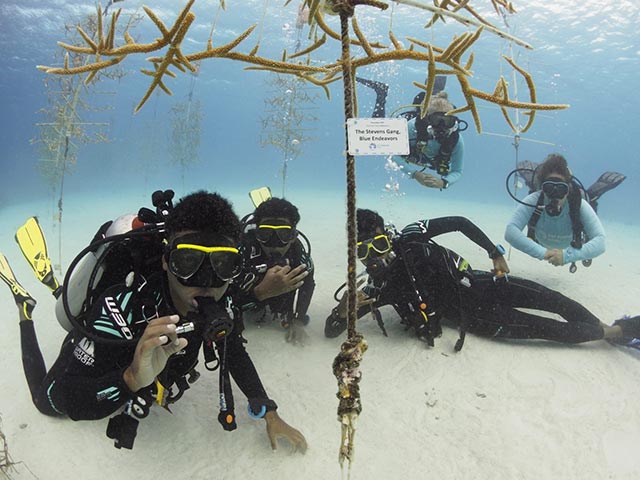 On the 26th of November, 2020 the four students began their Reef Renewal Diver specialty course with a presentation where they learned about reef restoration science and practiced hands-on skills while on land. Over the course of 5 weeks they also cleaned coral nurseries, propagated new coral fragments, and outplanted a few bigger coral colonies in the shallows. For their final certification dive, the students accompanied RRFB staff to the South Klein Bonaire production nursery where they helped refill trees that RRFB recently harvested corals from for outplanting.
When asked about why he wanted to get involved with RRFB, student D. P. replied: "I didn't know too much about coral reefs before this course. Learning how coral restoration works is new and exciting!"
S.A., another student, added: "I like to dive and if I go diving I want to see a beautiful reef!"
Through discussions about why the students wanted to protect Bonaire's reefs, they also noted the importance of reefs to fisheries, tourism, and future employment opportunities. With devoted and attentive reef guardians such as these Jong Bonarieans, the future of Bonaire's reefs lies in good hands.
RRFB looks forward to continuing the program with Jong Bonaire in 2021. The four certified students will continue to develop their diving and restoration skills through volunteering opportunities while paving the way for other interested Jong Bonaire students. Through continued support, RRFB hopes to certify four more eager Jong Bonaire students in the near future. Students certified through the Jong Bonaire/RRFB program will also have the opportunity to meet other students supported by Blue Endeavors when it is safe for people to travel to Bonaire again.
Are you interested in supporting the next Jong Bonaire/RRFB divers? Please contact Reef Renewal Bonaire at info@reefrenewalbonaire.org to learn more. Your sponsorship can help make a difference for the next generation of Bonaire's nature protectors.